THE WORLD FAMOUS BUTTER COW AT THE OHIO STATE FAIR
PROMOTING AN ICON TRADITION YEAR AFTER YEAR
Every year, the American Dairy Association (ADA) Mideast makes a huge splash at the Ohio State Fair. The ADA's annual Butter Cow sculpture and exhibit is a main attraction of the fair, drawing around 150,000 visitors a year. But how can a physical display at a local fair draw national attention? That's where MediaSource comes in. For more than 10 years, we've been earning national acclaim for the Butter Cow and the ADA, showcasing the organization on a national stage.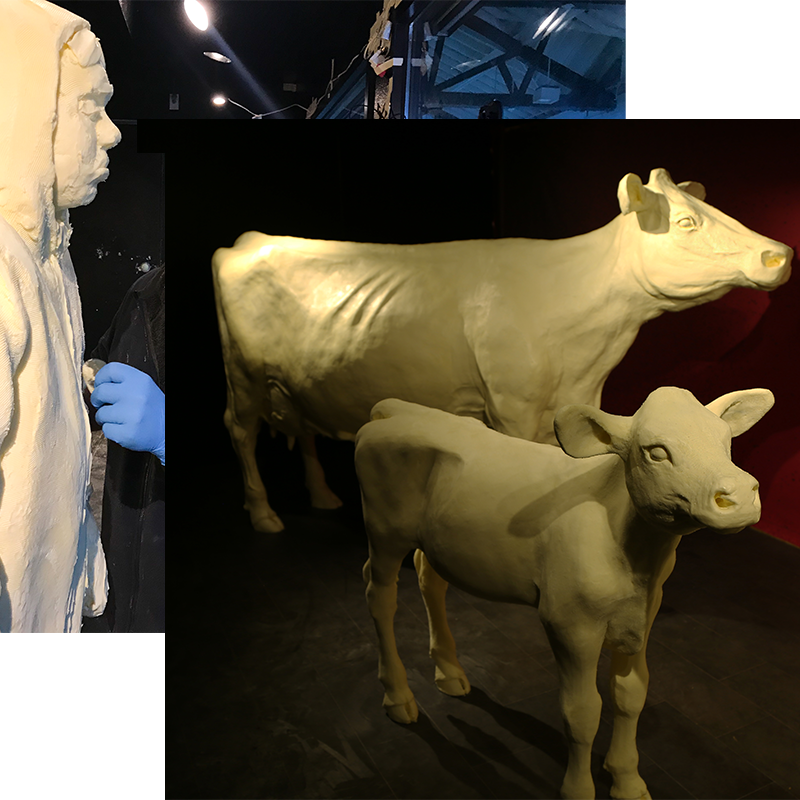 Each new Butter Cow project comes with different highlights, challenges and opportunities. The ADA does a fantastic job of staying current, and MediaSource helps choose themes for the display each year. In 2016, the exhibit celebrated the Cleveland Cavaliers' NBA title. In 2019, the display paid homage to the 50th anniversary of the Moon landing. In 2020, with the fair shut down amid COVID-19, the display went virtual. For each exhibit, MediaSource uses its expertise to create a content package that highlights the story behind the display, the amazing process of its creation and the folks at the ADA who make it happen.
By capitalizing on the changing subjects of the exhibit, its topical nature and its impressive craftsmanship, MediaSource takes a regional story and turns it into a national one while still keeping Columbus and Ohio its epicenter. Our team has built relationships with journalists who cover the story, learning what they're looking for and the type of content that can help them turn the story into their ideal package. Local outlets like the Columbus Dispatch often run photo galleries and historical looks back at past displays, while national outlets are fascinated by the process and the topic of the year. In 2020, with no physical visitors to capitalize on, MediaSource created a DIY Butter Cow contest that drew contestants from across the country.
MediaSource has helped turn the beloved Butter Cow into a national attraction. In 2019, Butter Cow coverage reached an audience of more than 900 million.. The 2018 story was viewed by 3.4 million people on television in the state of Ohio alone, with a total of 129 airings on local Ohio news stations in addition to 452 TV airings outside of Ohio. National coverage includes the TODAY Show, Headline News, USA Today, CNN, CNET, Gizmodo, ESPN, the Associated Press, The Washington Post, The New York Times and ABC News. The coverage comes with a purpose, showcasing the importance of the dairy industry in Ohio and the great work being done by the ADA.