TECHOHIO'S STARTUP CULTURE AWARDS
With company culture increasingly valued by today's workforce, we let our audience decide who does it best in Ohio!
TechOhio is one of MediaSource's most successful projects. Since launching in 2014, we've grown the TechOhio site from a nonexistent page to drawing nearly 58,000 page views in 2020 thanks to our storytelling with purpose process. To celebrate the site's growth and put an exclamation point on each year, we launched the Startup Culture Awards as a campaign to highlight who has the best company culture among the Ohio startup scene. In the scope of the project, this was a chance to create a moment, earn some media buzz and engage the startups and organizations for whom we created a community.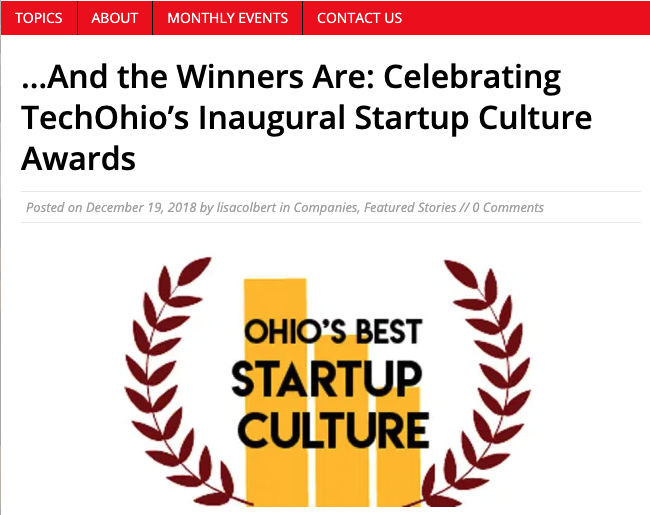 Over the three years of the Startup Culture Awards, MediaSource has grown the campaign from a small social media surge to a popular, engaging community event across the state. The competition's mechanics have been tweaked each year, with changes to how nominations and voting work, but the focus has always been on the Ohio companies we wanted to showcase. We've created videos featuring our winners, graphics to show off their title, social media packages and content for journalists to use.
The Startup Culture Awards are a way to draw more broad coverage of the startups we know well. We used our deep connections among the Ohio startup community to get dozens of companies involved and connected with people in and out of the scene on social media. And though the TechOhio project isn't focused on earned media, our team has still found ways to translate the awards into news coverage, particularly in 2020 when the event was reworked to highlight how Ohio companies responded to the pandemic.
Like the TechOhio site, MediaSource has grown the Startup Culture Awards from a new name to an exciting and engaging campaign celebrated across the State of Ohio. When it launched in 2018, the first edition of the awards garnered about 2,000 page views and attracted 164 nominations and about 5,000 votes. By 2020, the awards were the biggest driver of page views on the site. In its three years, the competition has now earned nearly 10,000 page views, 344 nominations and more than 275,000 votes in addition to several media placements.