INTEGRATED COMMUNICATIONS 
PROMOTING OHIO'S TECHNOLOGY INNOVATORS
Utilizing a company's owned media channels to build an audience.
The State of Ohio has historically been at the center of American innovation for decades. From the Wright Brothers and Thomas Edison to John Glenn and Neil Armstrong, some of the nation's biggest ideas and steps forward have come from Ohioans and their projects. The same is true today, as companies like Root Insurance, CoverMyMeds or Olive revolutionize their industries through businesses that began as small startups. To share the stories of those startups that could become a billion-dollar unicorn or produce the next groundbreaking technology, the State of Ohio turned to MediaSource to create, launch and grow TechOhio. The site would serve as the voice of the Ohio Third Frontier, highlighting what's next in tech, startups and small businesses across the state.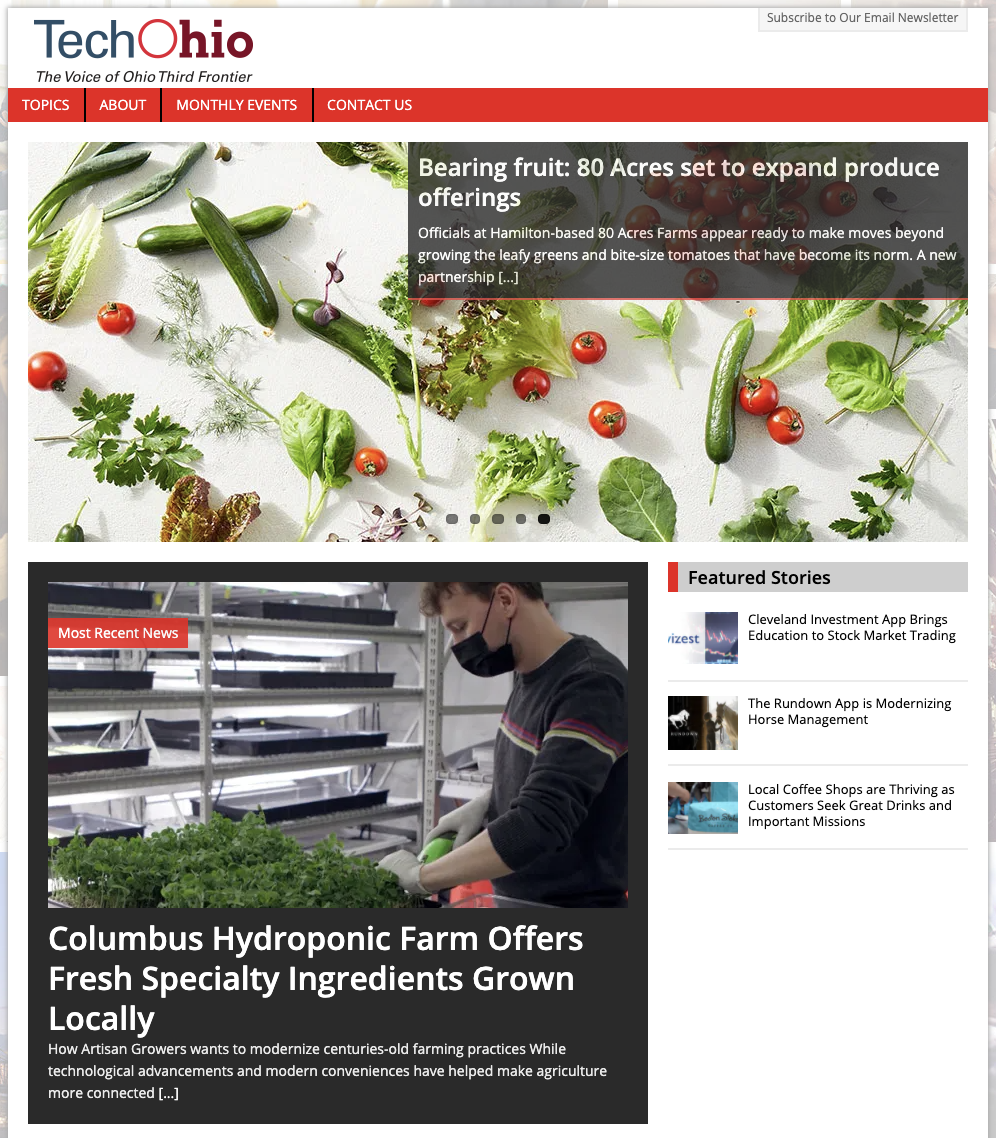 TechOhio launched in 2014 with a completely blank slate — a new website, no existing content and a path that MediaSource would forge through our own vision and expertise. We got to work building a bank of strategic content, writing stories, filming videos and aggregating news that matched our mission. Over the years, the project has strategically evolved to fit our client's needs, increase impact and spotlight important initiatives. The site now showcases innovation, creativity and technological breakthroughs in every industry, with a bank of thousands of news blurbs and reported stories and nearly 400 professional quality video features.
Unlike clients that need to attract national media attention and maximize interest on a particular day, TechOhio's challenge is to provide consistently compelling content, build a brand reputation from the ground up and cultivate a community that would serve as our audience, sources, subjects and more. By telling interesting and important stories from around the Ohio tech scene, engaging with the players in the startup ecosystem and operating with similar principles to a news organization, we've built a site that serves as a jumping off point for new startups, a thought leadership space for well-known leaders and a showcase for previously unknown tech. Through strategic planning and in-house execution, MediaSource built the site's social media presence from the ground up, tailoring our digital communities to maximize reach, impact and engagement.
TechOhio readership and reach has grown tremendously since it launched with a brand new website and social media accounts on Twitter, Facebook and LinkedIn. In 2020, the site had its best year yet, representing 667 percent growth in visitors per month since launch. Along the way, the TechOhio social media audience has grown by 163 percent and the site's stories have reached an earned media audience of more than 800 million people. Campaigns like TechOhio's annual Startup Culture Awards draw an even broader audience than normal, engaging with hundreds of companies and earning local media coverage in the process. The site's mission can be tied to quantifiable trends in the Ohio startup scene, as partner organizations are funding more companies than ever and the state saw its record number of new businesses registered shattered in 2020.